Super Charge your PC
with these Must Have Utilities!


Protects your identity
Detects sensitive details (credit card numbers, driver's license & more)
Shreds or Encrypts sensitive details

Protects your privacy
Permanently destroys your Internet history, cyber-tracks and private data
Shreds sensitive documents

Repairs likely PC registry errors
Stabilizes for better performance
Improves speed
Helps prevent frequent crashes
Winferno All-In-One Suite 2015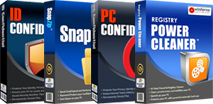 Speed up and safeguard your computer.
The Winferno All-In-One Suite combines
4 products into one software package.
Need
Help?
Click here to
contact our
expert customer
support

| |
©Copyright 2001 - 2017 Winferno.com All Rights Reserved