Winferno PC Confidential
Protects your Privacy & Permanently Destroys your Internet History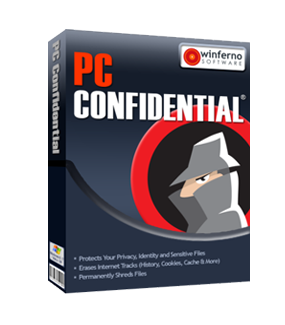 Winferno PC Confidential :
Protects your Privacy


PC Confidential deep scans your PC to locate all traces of private data including website history, cache, cookies and more. Next PC Confidential compiles this data so that with one click you can thoroughly erase it all or select pieces to erase.

Permanently Deletes Online History


Deletes all traces of your Internet history for 6 different programs including: Internet Explorer, Firefox, Opera, Secure IE, Netscape, AOL and MSN Explorer.

Destroys Cyber-Tracks


Destroys all cyber tracks (cookies, cache, search history and more).

Shreds Sensitive Files and Folders


PC Confidential's powerful file shredding exceeds the Clear and Sanitize Matrix requirements of the Department of Defense standard, ensuring that shredded files CANNOT be recovered. You can choose between 4 levels of shredding security and you can also choose to shred all of the empty space on your hard drive(s).

Browser Security Manager


PC Confidential allows users to easily change browser security settings. You choose how long to keep your browser history, zone specific settings and more

Manages Cookies


Websites leave cookies on your PC after you visit them. These are visible "crumbs" of your online travels. Cookies are helpful for things like remembering your automatic log-ins. PC Confidential makes it easy by letting you decide which cookies you would like to save, and which you would like to delete. You can also "shred" the cookies so that they cannot be recovered.

Deletes the hard to find and locked index.dat file


This file contains a comprehensive record of your online activities. (Internet history, Internet cache and webpage cookies). Because of the way Windows was created, it cannot be manually deleted... ever. PC Confidential is powerful enough to destroy all traces of this file.

Classifies Sites


PC Confidential allows users to easily classify sites into Low, Medium, and High Security. Easily import Favorites into Low Security so that your favorite sites work properly while keeping browser security high for all other sites.

| |
©Copyright 2001 - 2017 Winferno.com All Rights Reserved