Want to see what evidence is stored on YOUR PC?
Our Free Privacy Scan will detect and locate hidden evidence on your computer including:

Browser History
Search History (Auto-Complete)
Browser Cache
Browser Cookies
index.dat file
Recent Documents List
Windows Temporary Files
Recycle Bin Contents
File Search History
Windows Explorer History
Windows Media Player History
Real Player History
QuickTime Player History
AOL Chat Logs
MSN Chat Logs
Yahoo Chat Logs
And more…

Your Customized Privacy Report will show you a detailed report of your results and accesses your risk levels.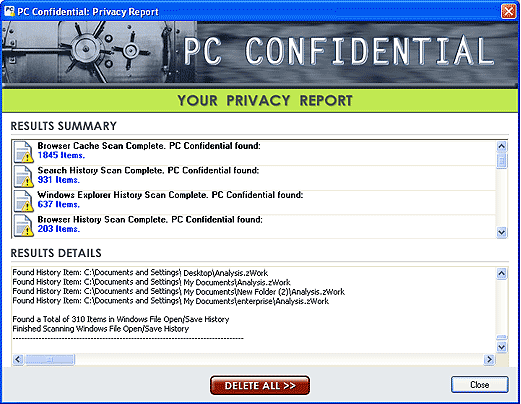 Would you feel comfortable having someone look over your shoulder while you surf the Internet? Because that's essentially what happens every time you boot up your computer. Long after you leave, anyone (even those with limited computer knowledge) can open your online record, click on a few links and see everything listed in your privacy report!
Why jeopardize your family, reputation or job?
Use our Free Privacy Scan to see if your PC has collected incriminating evidence about you.