Erase Internet History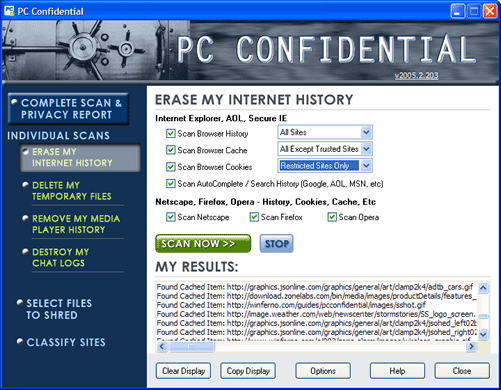 Your Internet History is more than just the sidebar on the left-hand side of your monitor. Internet history is really a broad grouping of several files on your computer where the actual addresses of websites you visit are collected. Just opening one of these Internet history files would give a person a complete picture of where you go on the Internet.
Simply check the boxes you'd like to destroy and PC Confidential will scan your PC to locate any traces of evidence. Once it has found the results, you can choose to thoroughly destroy ALL of these files.
Customized Privacy Report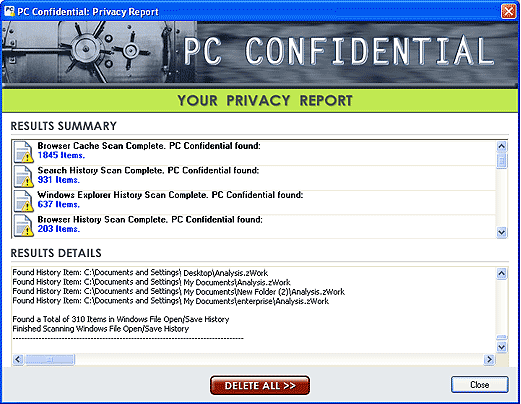 After PC Confidential has performed a scan, you will get a comprehensive Privacy Report with a list of your results. The Results Summary lists the total number of items found, whereas the Results Details, allows you to see specific items found.
With just one click, PC Confidential will completely delete all items.
Ultra-Powerful File Shredder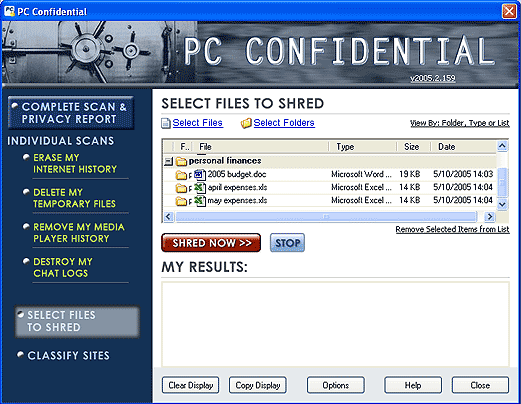 Don't let your previously deleted files come back to haunt you!
PC Confidential was designed in accordance with the Department of Defense standards (DoD 5220.22-M, the "National Industrial Security Program Operating Manual) for data removal, and therefore even state-of-the-art data recovery tools such as EnCase, Computer Cop, Paraben's P2 Examination Process cannot recover files shredded by PC Confidential. Even sector analysis technology available in ultra-sophisticated $7000 programs cannot retrieve information or files shredded by PC Confidential.
Don't let your previously deleted files come back to haunt you!
Simply select the files you'd like to shred and press Shred Now.
With just one click, your selected files will be gone... forever.


What evidence is on your PC?
Our Free Privacy Scan will detect and locate hidden evidence on your computer. Your Customized Privacy Report will show you a detailed report of your results and accesses your risk levels.